Lift-up dinghy davit systems for dinghies and inflatable boats.
The Nova Davit™ Sailboat Davit system for inflatable boats
The Nova Davit™ Sailboat Davit system for inflatable boats represents the "State of the Art" for styling and function.
The Nova Davit is a versatile davit system for sailboats and powerboats. They are strong, attractive and offer a quick, simple installation, assuring a perfect fit with an offshore strength standard. They are designed to lift your dinghy, without engine on, higher out of the water to help avoid swamping or loosing the dinghy when your boat is healed over under sail.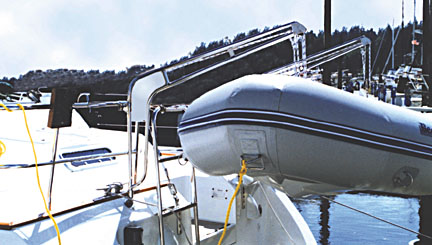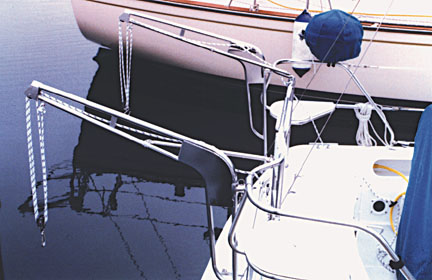 See more pictures and videos on our sister website here.
See more pictures and videos on our sister website here.
The Nova Davit is designed offer the benefits of light weight and excellent lifting capacity and are designed for dinghies in the 6 to 12 foot range, subject to 350 lb max. weight restriction.
Complete package ready to install - by yourself or by your local boat yard.

All ropes, pulleys, struts, mounting clamps included.

Nova Davit™ can conveniently fold inward, flush with boat stern, to maintain boat slip length or remove them completely for stowage or racing.

Diagonal bracing struts for added lateral and outer end stability of davit system.

Double sheave head is built integrally for increased strength, clean lines and light weight.

All 304 Stainless Steel Davits, with new attractive Lines.

Fits rails 23" to 32" high.

The maximum safe working load is 350 lbs. per pair - 175 lbs per arm.

Light weight and strong.
Forespar Nova Dinghy Davit Kits include everything you need for a complete installation:
Rail clamps

Base mounting hardware (except for deck screws or bolts).

Forty feet (40') of high quality line per davit arm.

A pair of double blocks (providing a 4:1 lift ratio).

Two carabineer hooks for quick attachment and lifting security.

Two Harken cam cleat rope jammers.

One standard cleat.
Important: Do not leave engines on dinghies when hoisted up on davits. This weight overloads one arm and can lead to failure of davit arm and/or stern rails. Remove the engine before hoistng dinghy.

All Nova Davits & Nova Lifts come standard with 1" rail mounting brackets. If you have larger rails 1 1/4" brackets are available as an option at an additional cost.

Be sure to measure your rails before ordering. The original brackets cannot be returned for credit.

See all Lift-up davit system details and pricing here.
Still not sure? Then ask the Experts - Contact us for advice on the davit system that is best for your needs.

ALL DAVIT OPTIONS: Winch-on Davits | Pull-on Davits | Sling Davits | Pivot-up Davits | Quick-snap Davits | Lift-up Davits